In this workshop, we will add flavor and femininity to your Cuban salsa moves. The ability to express oneself through styling and musicality is an inseparable part of the dance, adding another layer of connection to the music and your partner-work. We will practice some nice little details which can be easily incorporated into your dance and give you and your partners that 'wow' feeling!
Who is it for?
If you want to refine your moves and make them a little bit more feminine then this is the class for you.
The class is open level and most dancers should be able to follow it. It is still recommended to come with some experience and complete at least our Beginner course or equivalent.
The Teacher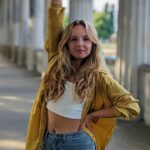 Agnita Januskeviciute
Agnita started her dancing journey in 2012. She has learned with multiple teachers and dance schools in Scotland, Lithuania, and Berlin, and studied under many Cuban teachers across Europe & Cuba. In her dance, she likes to use elegant and soft feminine moves that make her shine on the dancefloor (more info here)
Details
Available Discounts
"Bring Your Friends" Discount: If you bring 2 new students – 25% off, 3 new students – 50% off, 5 new students – free of charge. Credit can apply to other La Candela activities.
Student Discount: 20% off. A valid student card should be shown.
Young & Wild: Students (university or high school) under 22 of age can join with a 40% discount. A valid student card should be shown.
Sign up
For any questions, You can contact us through email or via phone at 01763-444-9686