Come and learn the famous Cuban dance – Salsa!
La Candela is excited to invite you to take Salsa Classes with us. the Beginner level course, where you could dance Salsa within a few weeks. The objective of the course is to bring you to a comfort level so you could dance to the beats of salsa with a partner or in one of the many Latin clubs in Berlin.
The course concentrates on Cuban Salsa, the original famous dance. We will learn the basic technique of the couple dance, which will provide you both the skills to start dancing and a solid foundation to continue and become a great Salsa dancer.
Our courses are led by professionally trained & certified Salsa teachers. We have the structure and methodology to allow every person to dance, even if you think you have two left legs.

We also have a very engaged community which we hope for you to get to know and be a part of. Throughout the course, we are likely to go out together dancing together, to practice and have fun.
How does it work?
The Beginner level has two "Blocks". Each Block is 4 classes of 75 minutes.
You can start with Block 1 or Block 2 – it doesn't matter.
For more details about our Salsa Program click here.
Who is it for?
The course is for complete beginners. No prior knowledge of dancing is needed, just bring your feet with or without rhythm and you'll be taken care of 🙂
Not sure if it's your level? Do you want to see where our program leads you to?
You can see the entire Salsa Program.
Main Teacher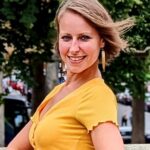 Melina Garcin
La Candela's french soul that will bring you the "Je ne sais quoi". Melina has been dancing Cuban Salsa since 2011, starting in France, and continuing throughout Europe. She has been learning and studying throughout the years with many different teachers from Cuba and dove deeper into the Cuban folklore and culture, which fascinate her. More info here
Details
Available Discounts
"Bring Your Friends" Discount: If you bring 2 new students – 25% off, 3 new students – 50% off, 5 new students – free of charge. Credit can apply to other La Candela activities.
Student Discount: 15% off. A valid student card should be shown.
Young & Wild: Students (university or high school) under 22 of age can join with a 30% discount. A valid student card should be shown.
Any Questions?
Feel free to contact through email or phone number: 0173444986.