In these workshops, you will practice how to add salt and pepper to your salsa (i.e. sauce!). Training the different body parts individually becomes part of your salsa journey if you want to add styling, Suelta, rumba, and afro moves to the songs you are dancing to. The workshop will also give the opportunity to work on coordination, and develop your Cuban style.
Who is it for?
No partner work, so leaders and followers are welcome!
If you want to add shoulders, chest, hips – rumba, and afro moves to your dance, this workshop is for you!
The class is open level and most dancers should be able to follow it. It is still recommended to come with some experience and complete at least our Beginner course or equivalent.
The Teacher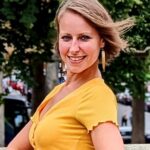 Melina Garcin
La Candela's french soul that will bring you the "Je ne sais quoi". Melina has been dancing Cuban Salsa since 2011, starting in France, and continuing throughout Europe. She has been learning and studying throughout the years with many different teachers from Cuba and dove deeper into the Cuban folklore and culture, which fascinate her. More info here
Details
Available Discounts
"Bring Your Friends" Discount: If you bring 2 new students – 25% off, 3 new students – 50% off, 5 new students – free of charge. Credit can apply to other La Candela activities.
Student Discount: 20% off. A valid student card should be shown.
Young & Wild: Students (university or high school) under 22 of age can join with a 40% discount. A valid student card should be shown.
Multiple Courses Discount: if you take more than one course in La Candela at the same time you could receive a substantial discount. Please contact us for more info.
Sign up
To sign up or for any questions, You can contact us through email or via phone 01763-444-9686