In this course, we will deepen our understanding of the dance and create a solid foundation for your dance:
The focus of the course is on Salsa Cubana's core elements. The moves which are the "basic blocks" in the foundation of Salsa. Example moves: Vacilala, Siete, or Coca-Cola.
You will learn new more advanced moves you could use on the dance floor.
Improve your Partnerwork technique, and be a better leader or follower.
Our classes are known to be extra detailed and structured. This will allow you to understand better the structure of a Salsa Dance, and have the foundation upon which you can compose and follow later on more complex figures with perfect technique.
The course includes 8 lessons, each lesson 90 minutes. There is no need to come with your own partner, we try to start the course with a matching amount of men and women.
Who is it for?
Truly this course is for everyone, this is the most important course in our program – and it's rare that we recommend dancers to skip – Beginners and advanced alike. We give many details you get nowhere else and work on the foundations like nowhere else.
More in detail we recommend to three groups of people.
Next level after Beginner Course – For dancers who took La Candela's Beginners course or a few classes before in another school. (5-10 depends on the school)
Dancers that learned on the dancefloor – For people that dance for a long while but didn't take classes before or need a refresher of the core technique. This course will focus on the elements that allow you to have a smooth dance that feels effortless and beautiful. Keep in mind you still need to know the material of the Beginner course, and without it, it will be difficult to follow. ( one/two private classes can often help with getting there if you have considerable experience ). Also, consider reading here more why you should take this course and not just "dance for fun")
Any dancer that looks for a kickass technique. We explain everything with super details, and this could enhance your understanding of the dance.
You need to be familiar with and be able to perform the following moves:
Not sure yet if it's your level? Do you want to see where does this course leads you to?
You can see the entire Salsa Program.
The Teacher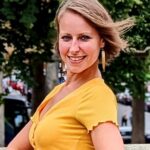 Melina Garcin
La Candela's french soul that will bring you the "Je ne sais quoi". Melina has been dancing Cuban Salsa since 2011, starting in France, and continuing throughout Europe. She has been learning and studying throughout the years with many different teachers from Cuba and dove deeper into the Cuban folklore and culture, which fascinate her. More info here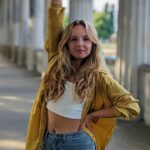 Agnita Januskeviciute
Agnita started her dancing journey in 2012. She has learned with multiple teachers and dance schools in Scotland, Lithuania, and Berlin, and studied under many Cuban teachers across Europe & Cuba. In her dance, she likes to use elegant and soft feminine moves that make her shine on the dancefloor (more info here)
Details
Available Discounts
Previous Student Discount: If you choose to repeat the course you are eligible for a 50% discount. Limited amount of spaces for this discount.
"Bring Your Friends" Discount: If you bring 2 new students – 25% off, 3 new students – 50% off, 5 new students – free of charge. Credit can apply to other La Candela activities.
Student Discount: 20% off. A valid student card should be shown.
Young & Wild: Students (university or high school) under 22 of age can join with a 40% discount. A valid student card should be shown.
Parallel Course: If you take another course with us, you can receive a 30% discount for the second course and a 35% discount for the third.
Sign up
To sign up or for any questions, You can contact us through email or via phone 01763-444-9686